NICOLE LECLERCQ
Provocative Paranormal
TOUCHED BY OBSESSION
Prequel to the Erin Holland Trilogy - Ann's Story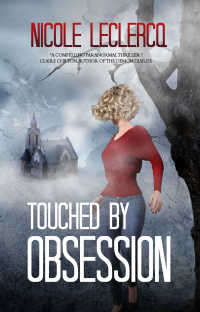 "A compelling paranormal thriller." - Claire Chilton, author of the Demon Diaries.
Trapped by his obsessive love, she wants to take their daughter and run. But can she save his daughter too?
Ann Holland secretly fantasizes about having a family. But as a witch, she follows tradition and stays single. That is until she notices and is captivated by the mysterious voodoo priest Oliver Merenda.
Oliver notices her too…
Her aunt's efforts to keep them apart drive Ann right into Oliver's arms, and his magical touch is like nothing she has ever experienced before. When she discovers she's pregnant, she moves in with him and his adorable daughter Leila. But what starts out as a dream, quickly turns into a nightmare.
Disturbed by his deadly voodoo rituals, she worries about her children's safety and her own. His increasingly controlling behavior makes her want to take the children and run, but Oliver is determined to keep her, and he knows that she won't abandon her stepdaughter.
While a desperate Ann plans their escape, Oliver watches her every move. She does not realize how far his obsession goes, and what he's willing to do to make her stay…
Buy Touched by Obsession to read the dark and emotional prequel to the Erin Holland urban fantasy series.
Price: $4.99
Available from: