NICOLE LECLERCQ
Provocative Paranormal
TOUCHED BY FEAR
Prequel to the Erin Holland Trilogy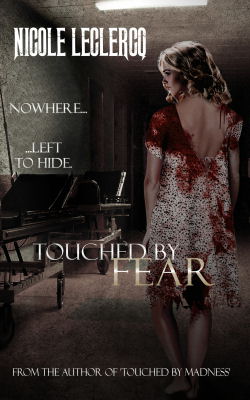 "Touched by Fear is a thrilling prequel story in the Erin Holland urban fantasy series. If you like dark magic, tormented heroes, and a touch of steamy romance, then you'll love Nicole Leclercq's supernatural tale."
An obsessed doctor. A tormented shifter. To find freedom, she must embrace the voices in her head...
Erin Holland craves the drugs that quiet her mind. Years of isolation in a London mental hospital have kept the creatures inside her at bay. But when her incapacitated state leaves her vulnerable, a twisted doctor begins an experiment to unlock her dark potential...
As the callous man's tests become more and more invasive, Erin has no choice but to listen to the seductive voice of the scheming warlock within. Confronted with two evils, she must outwit both the ghost and the scientist to prevent the birth of a new terror.
Can Erin control her powers or will her efforts to survive wreak havoc upon the world?
Sign up to the newsletter to read Touched by Fear today!
COPYRIGHT©2017 NICOLE LECLERCQ