NICOLE LECLERCQ
Provocative Paranormal
Newsletter
Subscribe to my new releases newsletter and get a free copy of Touched by Fear!
TOUCHED BY FEAR
Prequel to the Erin Holland Trilogy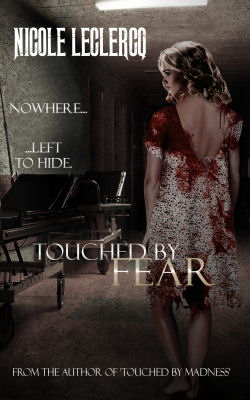 "If you're looking for a steamy gothic thriller with a strong heroine, then you'll love the books in the Erin Holland Series."
Nowhere left to hide...
Erin Holland has spent most of her childhood suffering from psychological and supernatural fear in an asylum while trying to hide her powers and ghosts from the dark world outside. Haunted by a witch, a vampire, a shapeshifter and a demon-worshipping warlock, she's accepted the darkness gripping onto her soul and has given up on any chance of a normal life.
She's grateful for the drugs that shut out the voices, especially when Gideon's sexy voice keeps trying to romance her into giving into his demands. But Erin's stay at the hospital takes a chilling turn when her doctor develops an unhealthy interest in her inner beast and attempts to create more shifters.
To escape his evil, vengeful intentions, Erin turns to Gideon, who promises her magic, love and pleasure. But is Erin really as safe as she imagines in Gideon's paranormal embrace?
To download the story for free, you just need to tell me where to send it.
Get Your Free Book